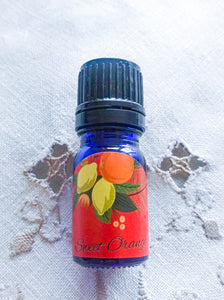 Balanced Life Products
Sweet Orange Essential Oil
Regular price
$4.00
$0.00
Unit price
per
Our sweet orange essential oil has a sweet, citrus smell. Use sweet orange in an all purpose spray to cleanse and purify surfaces. In a diffuser it can uplift your mood and energy levels, plus freshen the air. For a mid-afternoon boost, place two drops in the palm of your hands, rub together, and inhale deeply, then rub on the back of your neck.
Each bottle is 5mL
Country of Origin: Mexico
Botanical Name: Citrus Sinensis
Family Name: Rutaceae
INCI: Citrus Aurantium Dulcis Peel Oil Expressed
Common Names: Orange Oil
Parts Used: Fruit Peel
Extraction Method: Cold Pressed
Scent: Medium, Citrus
Appearance: Yellow to Orange
Physical State: Liquid
Natural: Yes
Purity: 100%
Cautions: Some aromatherapists have reported that a small percentage of few people have experienced dermatitis from the limonene content of sweet orange. Orange Essential Oil is considered photo-toxic and exposure to sunlight should be avoided. Do not use if pregnant.
Disclaimer: The information provided is general and should not be taken as medical advice.  Balanced Life Oils and associated business entities do not guarantee the accuracy of the information. Please consult your doctor, especially if being used during pregnancy, before using this product. You are also encouraged to test the product to ensure that it meets your needs.
---