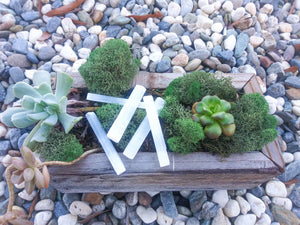 Balanced Life Products
Selenite Stick
Regular price
$4.00
$0.00
Unit price
per
This is a petite Selenite stick. The crystal measures approximately 2" in length.
Selenite is great for cleansing other crystals! Just make sure not to get it wet, because selenite is water-soluble. 
By connecting Selenite to the work we do around our crown chakra, we can wash away impurities of the mind. Including negative thoughts, negative memories, mental blockages, and even help against insomnia.
The very color and feel of Selenite have a wonderfully grounding quality. This helps to draw your focus and attention to the here and now.
If you find that you are easily distracted or find it difficult to concentrate on just one thing at a time, Selenite and its energies could be just the remedy.
As well as sharpness and presence of mind, Selenite can also clear away any fuzziness or mental fog that surrounds psychic insights, or visions received during meditation. Use on your Crown Chakra.
---