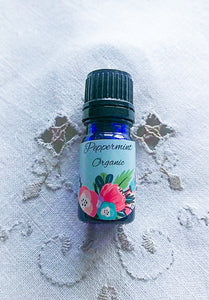 Balanced Life Products
Organic Peppermint Essential Oil
Regular price
$5.95
$0.00
Unit price
per
Peppermint essential oil has many uses, a few of which are as follows; for stomachaches, dilute and rub 2 drops externally over the stomach area. Place one drop on the back of the neck, rub in, and enjoy a cool-down in hot weather. It is also a great natural bug repellent.

The bottle is 5 mL bottle.
Country of Origin: India
Botanical Name: Mentha Piperita
Family Name: Lamiaceae
INCI: Mentha Piperita
Common Names: Indian Peppermint Oil
Parts Used: Flowering top and Green Leaf
Extraction Method: Steam Distilled
Scent: Strong, Minty Notes with Herbaceous Warm Undertones
Appearance: Light Yellow to Green
Physical State: Liquid
Natural: Yes
Purity: 100%
Organic Certified: Yes
Disclaimer: The information provided is general and should not be taken as medical advice. Neither Balanced Life Oils or associated business entities guarantee the accuracy of the information. Our supplier has the certificate of purity. Please consult your doctor, especially if being used during pregnancy, before using our Organic Peppermint India Essential Oil. You are also encouraged to test the product to ensure that it meets your needs, before using for mass production.
---