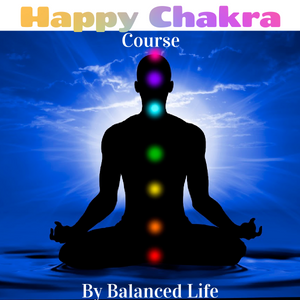 Balanced Life Products
Happy Chakra Course
Regular price
$82.00
$0.00
Unit price
per
Are you feeling overwhelmed, out of balance, or stressed? Do you wish you had more time to focus on yourself and your needs? Imagine a class that helps you find the time while balancing your chakras, tapping in to your creativity, learning how to ground yourself, and increasing the positive affirmations in your life.
Welcome to the Happy Chakra course. Our course is aimed to provide balance while focusing on self care. The Happy Chakra course is a combination of team Zoom meetings and private coaching sessions. In combination with our chakra essential oil crystal set, you will feel more at peace with your daily life so that you can become a better you.
This is a three-week course with two group meetings per week, one private coaching session per week, unlimited email access to Colleen, your Energy Healing Practitioner, and the coordinating chakra essential oil kit, sold separately but is a requirement for the course.
Our next live course starts August 16th and is limited to 10 spots.
See what our former students have said:
Stacy
found that doing the daily Chakra oils she had more 
calm and happy in her life. The setting of goals became so easy and I saw them manifest. Setting daily affirmations things really opened up and some long-awaited answers arrived. "I don't know what this oil is, but I'm going to need gallons of it. I LOVE it"
David
said "This is a GREAT experience" 
My mornings have been less stressful, I had a bad car wreck and driving causes me anxiety, this practice calmed me so much. I'm more mindful of my day and my creativity really bloomed.
Shanon: I had some emotional breakthroughs and loved the daily affirmations.
I realized I need to take time out for myself and this was a great way to start.
By week 3 Shannon said she was better at speaking her truth.
Nikki:
I always wanted to know more about Chakras, with Colleen she made it easy and was so helpful, my little daughter joined in with the practice and we had a great time.
Elisabeth:
A single mother working full time and college student "I needed this!"
Liz:
I have always wanted to start my spiritual practice of being mindful and set intentions for my mornings and evenings. Colleen answered my questions and was fun to chat with and it was so easy. I loved the smell of the oils and enjoyed all of it.
---