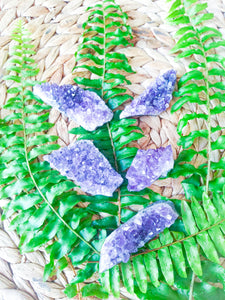 Balanced Life Products
Amethyst Cluster (set 2)
Regular price
$10.00
$0.00
Unit price
per
Amethyst clusters cut through illusions and enhance psychic abilities. They are excellent for meditation and this stone packs a punch. It is great for feelings of protection, contentment, and connection to one's spirituality. It is the stone of peace and strength and also stimulates the crown chakra.
These amethyst crystals are approximately 1.2-1.5 oz per cluster and are more of a long shape.
 Each amethyst is sold individually.
---