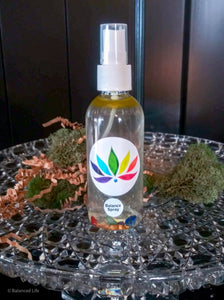 Balanced Life Products
Chakra Crystal Mist
Regular price
$15.00
$0.00
Unit price
per
We now have Chakra Mist, made with a special 
essential oil blend, witch hazel, and purified water for a daily alignment at work or home. Notice each bottle has the 7 Chakra stones and believe me your body knows it! 
All oils are organic, blended and filled by me. All of our crystals are charged in the light of a full moon for extra love and light energy.
Chakra Balance Spray Directions: 
Shake and spritz around your body as needed to bring balance to your chakras. Great to use with your meditations and yoga practices.
Safety Precautions:
You can add more carrier oil if your skin is sensitive to calm the area. Do not rinse with water as this may increase the reactions of essential oils. Discontinue use. If essential oils are new to you, try in an area first as a patch test, to see if you have a reaction. Some citrus oils can be phototoxic. It is recommended to stay out of the sun or tanning beds for at least 12 hrs with a phototoxic essential oil to avoid any adverse reactions.
Disclaimer:
These statements have not been evaluated by the FDA. These products are not intended to diagnose, treat, cure or prevent any disease.
---